Whole spelt Sourdough bread using the whole grain spelt flour with bran
This is a 1&1/2 day process for me, but you can adjust it to your schedule.
Start with a good sourdough starter, either made of spelt or rye (E-mail if you need help on making one)
Use 30gm of starter, mixed with 115gm of flour and 115ml water and allow to stand 10 to 12 hours at room temperature
The mixture should be nice and bubbly at this point.
Add about 340gm flour and 180ml water. This can be done in a mixer (to make kneading easier) or in a bowl, and mix about 1 minute. Allow to stand about 20 minutes, the add 7.5gm salt and knead about 4 minutes.
At this point, since there's only 2 of us, I divide the dough into 2 small bowls, oiled with sunflower oil, to allow for rising. I allow one to rise overnight at about 60 degrees, and one I put in the fridge for the next day.
In the morning, I allow the dough to come up to 25 degrees (about 2 hours). While this is happening, I heat a ceramic bowl with a lid in the oven at 375 in the wood stove or 425 in a regular oven. ( this takes about 1/2hour). Then remove the bowl from the oven, sprinkle the bottom with flour, drop the dough in and bake 20minutes, uncover, and bake a further 10 minutes. A large loaf will take longer. Remove from the oven, tip the bread out of the pan to cool. Allow to stand at least 1/2 hour before cutting ( unless Mat gets to it first)
Tips-
As you get more comfortable with the recipe, you can adjust water and flour quantities. I like mine just a little wetter, and often use cheese whey instead of water.
A cast iron bowl works really well too.
I have even made it stove top with a little cast iron pot, on a very low flame, 10 minutes per side
I use whole spelt, but for a lighter loaf, one can sift out some of the bran, but you are compromising nutrition.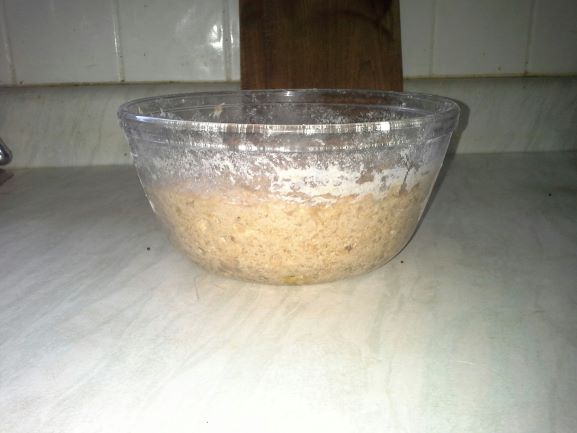 Recipes using local fresh oils:
Sunflower mayonnaise blender recipe
Put in a blender 1 egg
1 tsp ground mustard
1/2 tsp salt
Dash of cayenne
1 tsp sugar
1/4 cup sunflower oil
Cover and blend until thoroughly combined. With the blender still running, very slowly add 1/3cup sunflower oil.
Then slowly add 3 tbsp lemon juice and continue to blend until all blended.
Again, very slowly, add 1/3 cup sunflower oil and blend until thick.
Refrigerate. Keeps well for 3 weeks.
(Thanks to the joy of cooking for the basic recipe idea)